With its origins dating back to the 12th century, St Mary's Parish Church is one of the very few mediaeval parish churches still in active use in Scotland.
Much of the fabric of the existing church dates to a major reconstruction beginning in 1439, when Adam Hepburn of Hailes built the vaulted stone choir. The main layout and structure of the church has survived largely intact since then, although everything but the stone walls and vaulting were destroyed by fire in 1914, allegedly by suffragette protestors. Restoration of the church began in 1917, and today's interior is largely a result of that work, with the wagon roof, communion table, pulpit, lectern and font all by Scottish architect and furniture designer Sir Robert Lorimer.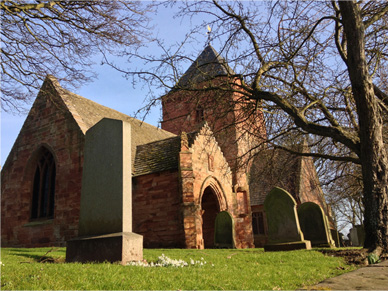 Miracles and a Pope
From the 1300s, miracles were being reported by people drinking at the nearby well (reputedly dedicated to St Baldred), and Whitekirk quickly became a major centre for pilgrimage. By 1413, there were some fifteen thousand visitors to the village, and King James I placed the church under his protection, building hostels to shelter the growing number of pilgrims. Among them was the future Pope Pius II, who walked there barefoot through snow from Dunbar to give thanks for having been spared a shipwreck there in 1435.
The holy well
The exact location of the holy well, which is the reason for the existence of our church, is sadly no longer known, as it is said to have been filled in during the early 19th century. Efforts have been made to trace it, but as yet without success. The search is continuing, however, and we will bring an update on our findings as soon as possible.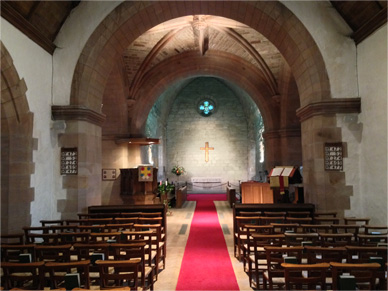 The church today
Services
Services are held each Sunday at 11.30 am. See the sidebar for details of Holy Communion and Family Services, and to download this week's sermon.
Children are welcome any Sunday, and there is an area in the church where the younger children can sit and play if they want.
Fair Trade stall
We have a Fair trade stall on the fourth Sunday of every month after the Family Service. This is an opportunity to buy a variety of fair-trade goods.
Messy Church The joint parishes offer several Messy Church events during the year to which all families are welcome. Messy church offers an opportunity, outwith ordinary church services, for families with young children to engage with the Bible stories through crafts and games. An important part of messy church is the fellowship and refreshments at the end of the afternoon.
Please contact Helen Patterson (01620 870689) or Sue Armstrong (01620 870230) for more details.
Pastoral visits
If you would like a pastoral visit, please contact the minister directly.
Getting married in St Mary's Whitekirk
St Mary's is a popular location for marriage ceremonies. If you would like to get married in our beautiful church, please contact the minister, the Rev Joanne Evans-Boiten by email or by phone on 01620-880378.
More information is available here.
Concerts
The acoustics of our medieval church are particularly good. St Mary's is used for a variety of concerts and is a favourite venue among Lammermuir festival goers.
Upcoming concerts will be listed in dates for your Diary
Registered charity
Whitekirk & Tyninghame Parish Church (Church of Scotland) is a charity registered in Scotland, SC000494